The underwater flight activity in Cancún.
Are you ready for the Subwing.
The location is the country of Mexico, the Yucatan peninsula and the magnificent state of Quintana Roo announces on its city of Cancún, the underwater flight activity known as the Subwing.
Cancún being a top touristic destination in the world for beach goers, springbreakers, summerbreakers, retirees, families and visitors of around the world it known basically for its party, turquoise waters and theme atractions, beaches and more, but there is more than that, there is a small family business that will open your eyes due Cancún is more than that.
Starting with the turquoise waters, I bet you have always wanted to feel like an astronaut or to fly like a dolphin or a mermaid, well enjoying the Subwing in Cancún turquoise waters delivers just that and what a better way than at an affordable price and at a trustworthy family business, in other words without breaking the bank, or falling into one of the numerous tourist traps.
If its your first time you come to Cancún or that you have even heard the word Subwing, then you are in for the time your life, of course you are going to be boarded with a lots of activities being the Jungle Tour, Chichen Itza and Xcaret one of the most common around the "tour sales" those have been the trends of our local concierges and tour agencies, and among the other top 10 best Cancun Activities, the typical all inclusive which gill offer you the favorite among the all inclusive goers "lounging on the beach, all you can eat & drink", but as we mentioned earlier, there is more than that in Cancún and if you are looking just that, "beach, drinks, snorkel, turquoise waters and something new" enter the Subwing experience for you.
Be one of the lucky first in the world to practice the new underwater sport, now a days in Cancun its gaining demand and popularity as we speak, so you might find some others  already offering it and selling it, we were the first to bring it into Cancun, or even to Mexico and we for sure have to tell you, you have to try it, coloquially and with the casual modism of "subwinging" come take the experience of underwater flight like a dolphin soaring below the surface of the ocean turquoise waters, the feel of an unique experience of freedom and adrenaline in the underwater word, it will bring the common snorkeling tour to its knees, and we offer it at Nautik Adventours.
What is a subwing?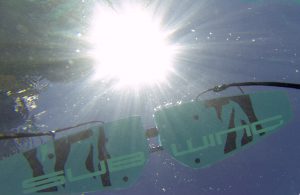 An underwater wing is a plane built for underwater maneuvers
Consisting of a board composed of two carbon hydrodynamic, plastic or fiberglass shaped and thought as aleron wing tips that can move independently of each other by a gyroscopic shaft built and engineered in and a rubber swivel ball in the center allowing distance within each wing to turn in different directions. This board is connected to a long rope, fastened to a motorized boat. The device can also float, even its hydrodinamic shape, due to its hollow design and use of poliestirene foam filling.
Subwings can also be constructed from fiberglass, and come with a wide variety of lacquers and finishes, both glossy and matte. Ours are the nicest colors to acocompany the turquoise waters, its meant to be used with accessories such as the GoPro camera mount, which we have and will allow you to fasten your GoPro, or one of our GoPro water-proof camera in front of the subwing to capture your entire adventure on film and pictures.
This camera is usually attached to the accesory that allows a personal overview of your flight and the ropes tense and fasten the device to the boat.
How does the subwing work?
The Subwing is attached to the back of our boat
Using long, sturdy ropes, and pulled along behind it. The Subwing rider simply grabs hold of the subwing from the middle of the wings, where the rubber handbar is located for precise measurement and is towed behind the boat at 2 to 5mph, slightly slow this for the resistance of the water, both over and underneath the ocean's surface. our boards include gripping pads for the subwing rider to hold on to. To turn, dive, and make other maneuvers, a subwing rider manipulates the hydrodynamic wings with his hands. It's that simple— and it's incredibly delightful, peaceful, thrilling, the experience of flight at your grasp!
As you are pulled behind the boat, you can relax on the surface and float slowly along, or dive underwater with a simple downward swivel of the wings. You can reach speeds of up to 5mph, once you get the hang of it. 5mph may sound a bit slow, but since water is 800 times denser than air, it is actually an incredibly thrilling velocity underwater. Most people can decompress to a depth of about three meters under. However, after practice and training, many subwing rider enthusiasts have accomplished even deeper diving.
What is that special about the subwing?
The stamina of your breathhold and total control over your underwater experience
Depending your level of comfort on your breathold, you choose when to plunge into the turquoise waters of the ocean mid water depths, and when to rise to the surface. subwing or apnea mask is required for your usage on the experince, however soon we will embark on the scuba diving gear or snuba hoses to greatly enhance your ride, this due you are breathing continously underwater with no  need to go to the surface, however since the activity requires little energy of stamina breathhold, most subwing riders can stay under the surface for about 15 seconds before rising for air, nonetheless even those who can only hold their breath for a few seconds can still enjoy the underwater views.
On our boat, a Sea Ray sundeck 24 footer, you may even be able to subwing dual flight alongside your friend or family member, experienced subwing riders can even fly side by side on a single subwing.
You'll be able to gaze at colorful reef and sandbar fish while you fly mid water effortlessly, as if you were a dolphin or a mermaid. After a few minutes of mastering the technique, you can perform twists, turns, dives, and barrell rolls.
One of the greatest advantages of coming to our subwing experience is our photo package because what a better way to increase the popularity and trend of the Subwing platform than in the most iconic and touristic destination called home, well the passion of the watersports experiences is not our only main passion, we are certified freedivers and professional photography moment capturers, either you choose to purchase an underwater camera for your footage experience or call it and let the photos be taken by us, professionals.
Likewise other tours that offer their subwing footage experience, they let themselves edit your pack and sell you only a few with the "top quality", this because their main purpose is not spending time on the whole lot, but refrain you at a high price and low benefit, the most common mistake is the typical over editing that looses the natural lightning and ambiance with the real moment. thats what we differ, so be aware.
However, this family business company Nautik Adventours offers professional photography services with editing as part of their subwing tour photo package deal.
Can anyone use a subwing
Yes and no, NO due we are a little bit more responsible on the issues concerning the no ability to swim experience, this due, that with even lifejacket on, like some of our competitors promote and have done, they do not take in account a simple panic attack, when the physically handicap will choke on water trying to swim and float with the subwing. So not being able to swim is a big no for us, so on that the subwing is non that physically demanding the water is to be respected and the families to be concientized about the importance of learning to swim.
And yes, its suited for families and even children manage the subwing fun in water experience, they just need to trust their instincts of swim, lear the maneuverability of the subwing and to hold their breath little by little this with our guide for beaking a new barrier and onto the fantastic underwater world, in summary once the child subwing rider is in complete control, learnt that he can easily tilt the wings when he is ready to go underwater, and tilt them again when he is ready to resurface for air then he is one of the qualified anyone percent that can use the subwing. Tricks and maneuvers follow later and are easy to learn, and most subwing riders catch on quickly. Once they have done it, they'll be dying to go back for a second turn or even come back with Nautik Adventours for its attention.
Subwing Tricks and Tips
Subwing is still new, tricks are limited by only your imagination, we have seen them all due as we mentioned before, we were the first ones to bring it to Mexico, the amount we have see varies of: twists, flips, turns, waking over the sandy ocean floor, fly in duo, grabbing the subwing leash with your feet, sharing the subwing, come and try a trick of your own but in the meantime check out these awesome pictures of subwing riders that have come to Nautik Adventours and fly underwater with us.
Purchasing your own subwing
We are direct dealers with the headquarters in Norway, but if you are willing to invest, we definitively will support you, a small shopping list and you are ready; ropes, mask, and a boat to put it to use and on that we can help you too, as boat builders , check out our fleet at Llanos Custom Made Boats. But at the end of the day, booking with us a subwing tour at $50 Usd.  is much less expensive than buying your own subwing, motorboat and gear, so give it a try, book now.
How and when was the subwing invented?
Simon Sivertsen was 18 back in 2010, when the idea for the subwing occurred to him. He was sailing in the Mediterranean Sea with his father and brothers, hoping to circumnavigate the globe.
The crystal clear waters surrounding the Greek Islands inspired him to come up with a way to see the ocean floor in a more thrilling manner. He wanted to know what it might be like to "fly" through the water just as dolphins and other marine animals do. So, Sivertsen grabbed a piece of driftwood, attached a waterski rope to it, and tied the other end to his small boat.
Weeks later, Sivertsen toyed with ways to improve his invention, eventually settling on a two-winged prototype with a rotating center joint. His original design was made out of boards, gardening hose connector links, and fiberglass.
Nowadays (and years of testing and new prototypes later), the subwing is sold online and in sports stores, and Sivertsen has won extensive awards for his invention. Subwinging caught on first on the European continent, and now has expanded to the Americas. (We brought it first to Mexico).
Some vacation tour packages in various Mediterranean and Caribbean islands include this activity, although it is certainly not as well-known as snorkeling and other traditional underwater pastimes.
Companies offer subwing excursions
In the Mexican Caribbean there are only 2 worth mentioning, one is in Isla Mujeres being hosted by our friend Hanna, called Wing Diving, if you are staying or planning to visit and stay at Isla Mujeres, we recommend you with them and of course us, Nautik Adventours.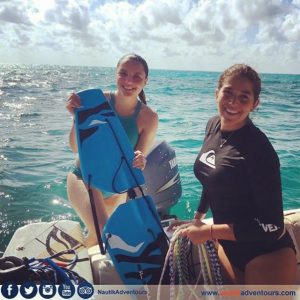 Cancún bay and Isla Mujeres are the spots
You arrived to Cancun, then we welcome you to where the map turns blue, the crystal clear turquoise waters of Cancun and isla Mujeres bay awaits, then onto north beach, one of the most beautiful beaches in whole Mexico, where the vibrant ambiance of yachts and nautical culture awaits, or if its your choosing onto a secluded beach on the lagoon.
But once you are with the subwing, underwater flying everything else wont matter, your pending issues are left in the surface, issues as the shops, the souvenirs to bring back home, the stress of the crowded resorts and their chlorine full pools and over priced dollar accounts checking you out like a face with dollars, so that said you just relax and enjoy the ride, be a certain you are in the best go local hands to experience the best way to experience the Subwing in Cancun, team up with us for the most accesible loyal competition fare and square the friendliest option of a married team couple available here.
So why keep waiting, you've read us now experience us.
Nautik Adventours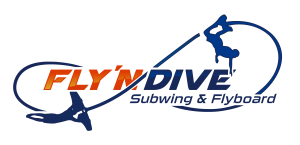 Subwing Cancun, experience the underwater flight